Quang Ngai Province officials have urged contractors to accelerate work to complete a project to preserve relics of Hoang Sa (Paracel) flotilla by the National Day (Sept. 2).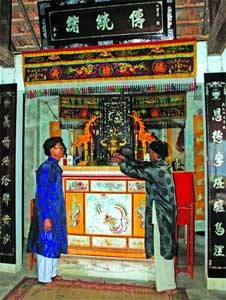 A part of the restored An Vinh communal house in the Hoang Sa flotilla relics conservation zone on Ly Son Island, Quang Ngai province. (Photo: Tuoi Tre)
The project started in July 2007 in the province's Ly Son District with a total investment of more than VND15 billion (US$843,000), said Dr Nguyen Dang Vu, deputy director of the provincial department of Culture, Sports and Tourism. 
The preservation zone will include a museum about the Hoang Sa Flotilla, the restored An Vinh communal house, a temple for flotilla captain Pham Quang Anh and a monument of Hoang Sa Flotilla.
In addition, the project will also restore other temples and relics that are related to the Hoang Sa Flotilla on Ly Son Island. 
After nearly two years of construction, 80 percent of the works have been completed, including the museum and the An Vinh communal house.
In June, construction of the flotilla monument will start and is expected to be completed by September.
The monument will be made of blue granite from Thanh Hoa Province.
Related article:
Historical links to Paracel Islands