People seeking jobs are invited to participate in the first reality television show held by job search service Vietnamworks, YahTV and Today TV starting March 7.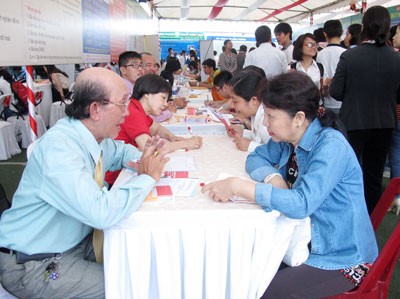 At an employment fair where employees can find a suitable job (Photo: SGGP)
Participants can register in the preliminary round through Vietnamworks' website (overtime.vietnamworks.com).

Organizers will choose ten contestants to live in a communal house working 12 different jobs in 12 weeks.

Various CEOs and managers of companies will give them objectives to show various skills.

The winning contestant will receive a award worth VND120 million (US$5,691), a training course for working in the United States, and a flat provided by Ehomes in Ho Chi Minh City.

The show aims to be simultaneously entertaining and educational, said Jonah Levey, founder of Vietnamworks. He hopes that it will help employees obtain necessary skills of modern work environments.