Viet Nam's Party General Secretary Nong Duc Manh met with Chinese leaders on Wednesday during his five-day visit to China to foster ties with the neighboring country.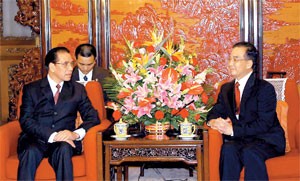 Mr.Nong Duc Manh (L) talks with Mr.Wen Jiabao on Wednesday in Beijing

Visiting General Secretary Nong Duc Manh met with Chinese Premier of the State Council Wen Jiabao, chairman of the Standing Committee of the National People's Congress Wu Bangguo and Chairman of the Chinese People's Political Consultative Conference's National Committee Jia Qinglin.

Chinese leaders warmly welcomed the official visit of the Vietnamese Party leader and stressed that China attached great importance to its relations with Viet Nam in the spirit of mutual confidence in accordance with the motto of "friendly neighborliness, comprehensive co-operation, durable stability and future-oriented vision" and the spirit of "good neighborliness, good friendship, good comradeship, and good partnership."

They said the visit would take the traditional friendship between Viet Nam and China to a new level.

Mr. Manh expressed his pleasure in visiting China and seeing its vast and radical changes. He said Viet Nam's five-year socio-economic development plan from 2006 to 2010 and China's eleventh five-year plan would benefit both sides in many ways.

Also on Wednesday, General Secretary Nong Duc Manh received the Chairman of the China-Viet Nam Friendship Organization, Zhao Dongwan.

In a meeting with diplomatic officers of the Vietnamese Embassy in China, he lauded their recent efforts, saying they should further contribute to the friendship and cooperative relations between the two countries.

Mr. Nong Duc Manh visited the headquarters of the Lenovo Group at the Zhong Guan Cun high-tech zone in a suburb of Beijing, and listened to a brief report on the socio-economic situation of Beijing and the development of Lenovo in the 20 years since its establishment.

The company has become the world's third largest PC manufacturer and has 26,000 employees, of which 17,000 are in China. Lenovo's total turnover in 2005 reached US$13 billion from desktop and laptop computers and high-tech mobile devices. Lenovo products hold a large market share in China and make up 8 percent of the world's market share of personal computers.

Mr. Nong Duc Manh highly praised Beijing's achievements and the success of Lenovo as well as the modernization experiences of China in general and Beijing in particular.

He also wished for Beijing to host a successful Olympic Games in 2008, and hoped that the Lenovo Group would expand its business to Viet Nam.