Party General Secretary Nguyen Phu Trong on March 27 met with President of the Inter-parliamentary Union (IPU) Saber Chowdhury and the IPU Executive Committee, who are in Hanoi to attend the 132nd IPU Assembly.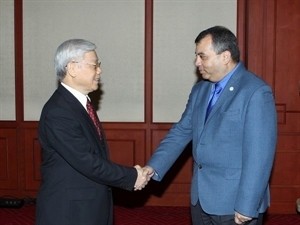 Party General Secretary Nguyen Phu Trong (L) welcomes IPU President Saber Chowdhury (Photo: VNA)
The Party leader said it is Vietnam's honour to be the host of the IPU-132, which is an important political and diplomatic event demonstrating the country's open diplomatic policy and active international integration.
He highly valued the IPU's role as a special forum of countries' official parliamentary diplomacy, stressing that the IPU has made responsible and effective contributions to global political and economic life.
The Party General Secretary voiced his belief that the IPU-132, themed "Sustainable Development Goals: Turning Words into Action", will be an opportunity for global parliamentarians to actively discuss this issue. He hopes that the Assembly will reach high consensus and issue a Hanoi statement which will be a landmark of the event.
He emphasised that ensuring a peaceful and stable environment is the prerequisite and the cornerstone for the successful implementation of sustainable development goals.
At the meeting, IPU President Saber Chowdhury expressed his admiration for Vietnam's development accomplishments while speaking highly of the Vietnamese National Assembly's active and responsible engagement in the IPU.
He said he is impressed with the host country's thorough preparations for the IPU-132.
Saber Chowdhury added he hopes to continue working with the IPU Executive Committee and member parliaments to promote the establishment of a global partnership based on the determination and solidarity of parliaments.-VNA