Party General Secretary Nguyen Phu Trong has asked the central coastal province of Binh Thuan to further develop its maritime economy as it boasts one of the country's three largest fishing grounds.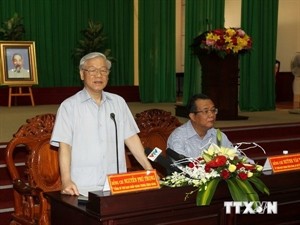 Party General Secretary Nguyen Phu Trong highlights the important role and position Binh Thuan in both socio-economic and defence-security fields. Photo: VNA
Talking with local leaders on July 4, Trong urged them to continue boosting socio-economic development, while ensuring security, defence and maintaining peace and stability.
He stressed the importance to do well the Party building work, adding that this is a core factor to effectively implement other tasks.
At the meeting, the Party leader also highlighted the important role and position of the province in both socio-economic and defence-security fields.
He expressed his delight at the province's significant development over the past time. Locals' lives have been improved both materially and spiritually, while the rate of poor households in the province was brought down to 4.8 percent against the national rate of 8.5 percent.
In the first half of 2014, Binh Thuan recorded a GDP growth rate of 8.6 percent, with a sign of recovery in its industrial production.
The province saw more than 1.8 million tourist arrivals with a revenue of nearly 3.2 trillion VND (150 million USD), up 7.1 percent in number and 18.1 percent in value year-on-year.
It is now home to 7,500 fishing vessels, which harvested 78,600 tonnes of aquatic products in the first six months, up 6.2 percent from the same period last year.
On the day, the Party leader visited the wind power plant No. 1 in Binh Thanh commune, Tuy Phong district. The 30-MW plant, the first of its kind in Vietnam, was connected to the national grid in August 2009.