General Secretary Nong Duc Manh called on Party members to continue to improve their skill sets to serve the country's industrialization and modernization efforts.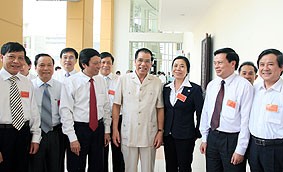 Party leader Nong Duc Manh ( 4 , left ) with members at a conference held Feb 12 to discuss the Party's tasks for 2009
At a national conference for members held February 12 to discuss the Party's tasks this year, Mr. Manh said members have to thoroughly grasp the Party's policies and objectives.

They must have a strong political spirit, be virtuous, and have qualifications required to oversee the country's development, he said.

Party organizations and members have to be dynamic and creative, and have a deep understanding of practical issues to efficiently advise the Party Central Committee on developing the Party.

Mr.Manh also held forth on the preparations for the upcoming 11th National Party Congress.