Party General Secretary Nong Duc Manh has said the Party, State and people of Vietnam appreciate the friendship and comprehensive cooperation with China and the mutual benefit they yield.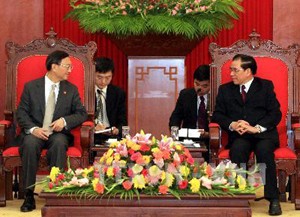 Party General Secretary Nong Duc Manh (R) meets with Chinese Foreign Minister Yang Jei Chi on May 26 in Ha Noi.
He was speaking at a meeting on May 26 with Chinese Foreign Minister Yang Jie Chi, who was in Vietnam to attend the 9th Asia-Europe Foreign Ministers' Meeting in Ha Noi.
Mr.Yang said he was happy to visit Vietnam and witness the country's achievements under the Communist Party.
He was also happy to see the comprehensive strategic cooperation between Vietnam and China in the recent period.
He wished Vietnamese people would continue to gain many other achievements in coming time.
In related news, the 9th Asia- Europe Foreign Minister's Meeting was held in Ha Noi on May 25, 26.
As for Viet Nam, FMM 9 is of special importance as it represents not only our country's consistent policy of openness and proactive international integration but also our desire to work together with other members for the enhanced profile of ASEM.
The meeting drew the participation of the ASEAN General Secretary, Surin Pitsuwan, representatives from the EC and more than 400 delegates from 45 members of the Asia-Europe Meeting (ASEM).