Party General Secretary Nong Duc Manh joined the Autumn Festival with over 1,000 children in Thanh Xuan district of Ha Noi on Tuesday.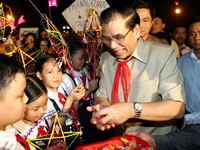 Mr. Nong Duc Manh and children

On the occasion, the Party leader extended his best wishes to all Vietnamese children in the country and abroad as well as foreign children in Viet Nam.

He recommended children, teachers and parents should share the joy in the festival with people in remote, isolated and difficult areas, ethnic minority people, and especially those in central and northern Central Highlands, which have been hard hit recently by typhoon Xangsane.

The General Secretary expressed his hope that Party organizations, authorities, and mass organizations should always care, protect and educate children in order to make them good citizens of the country.

He then presented gifts to 20 disabled children and students who made process in study despite of their own difficulties.