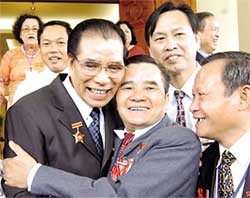 Party General Secretary Nong Duc Manh (with glasses) and the ex-servicemen
Party General Secretary Nong Duc Manh attended a meeting held in Ha Noi yesterday morning to welcome a delegation from the National Southern Bureau.
From 1951-1954 and 1961-1975, the National Southern Bureau was the representative agency of the Central Communist Party Committee of Viet Nam that spearheaded revolutionary activities in southern Viet Nam.
While visiting Ha Noi, bureau members visited the Ho Chi Minh Mausoleum and met with the Central Party Committee. Addressing the meeting, the Party Leader expressed his appreciation for the ex-servicemen's contributions to the country's development.
"During the revolution, these volunteers won the trust of the Party and contributed greatly to the country's independence, freedom and happiness," Mr. Manh said.
He then called on the younger generation to follow their example by furthering their achievements for the betterment of the country.