Viet Nam's Communist Party General Secretary Nong Duc Manh hailed the People's Police Force on its important contribution to the country's security stability and its supporting role in ensuring high economic growth rate and improving people's living conditions yesterday.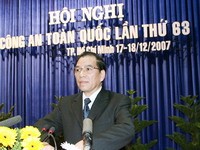 Party General Secretary Nong Duc Manh at the conference
At a conference of the police force held in Ho Chi Minh City on December 17 to review its work this year, the Party leader praised the force for having close cooperation with the army and relevant agencies in defeating schemes of sabotage by hostile and reactionary forces, uncovering criminal gangs, corruption cases and drug traffickers.
The police force ensured security for the election of the 12th National Assembly and other important events of the Party and State as well as international conferences, the leaders said, adding that the force also actively took part in preventing natural calamities and epidemics.
General Secretary Manh urged the People's Police Force to comprehensively renew its work and be prepared for the new situation. He asked for close coordination among police, army, diplomatic sector and other sectors to effectively prevent disorders and uncertainties.
Police should help Party committees and authorities at different levels and cooperate with relevant ministries and localities to settle disputes and complaints, the Party leader said.