Party General Secretary Nguyen Phu Trong on Wednesday paid a courtesy visit to former Cuban President Fidel Castro in Havana, capital of Cuba.
He told Fidel that in every Vietnamese person's heart, Fidel remains a noble figure of an indomitable fighter who has tirelessly struggled for the independence and freedom of Cuba and other oppressed nations around the world.
"You're a great friend, a brother and a comrade in arms of the Vietnamese people," said Trong.
He briefed Fidel of the results of his talks with Cuban President Raul Castro and the current situation in Viet Nam.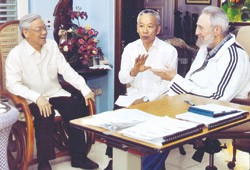 Party General Secretary Nguyen Phu Trong (L) visits Fidel Castro, leader of Cuba's revolution, on Wednesday
Trong told Fidel that the Vietnamese Party, Government and people would do everything to raise the special, loyal and pure solidarity and friendship, mutual understanding and comprehensive co-operation between the two nations to a higher level.
Trong also conveyed regards from Vietnamese party and government leaders to Fidel.
Fidel spoke highly of the visit to Cuba by Nguyen Phu Trong and expressed his admiration for the achievements that Viet Nam has gained.
"Your speech at the Nico Lopez Party School is of great value to us," said Fidel.
He thanked Vietnamese people for their selfless support, solidarity and co-operation with the Cuban people.
Trong and Fidel agreed on the importance of educating young people on the traditional revolution of the two countries and the imperative to preserve and enhance the friendships, solidarity and loyalty between the two nations.
During their meeting, the two leaders also discussed and exchanged their ideas on regional and international issues of mutual concern.
The Vietnamese delegation led by Trong left for home on the same day concluding their successful visit to Cuba.