Chinese Party General Secretary and State President Hu Jintao has invited new Party General Secretary Nguyen Phu Trong to officially visit China soon.
Hu conveyed his invitation via Hoang Binh Quan, who is Special Envoy of Party General Secretary Trong, in Beijing yesterday.
Quan, a Party Central Committee member and head of the Party Central Committee's Commission for External Affairs, delivered the results of the Communist Party of Viet Nam's 11 th National Congress to the Chinese leader.
He also brought the message, letters of thanks, warm regards and New Year greetings from Trong and other Party and State leaders to Chinese Party and State leaders.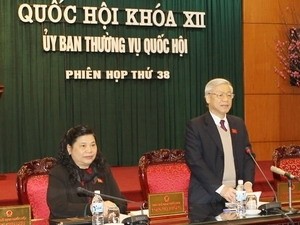 Party General Secretary and National Assembly Chairman Nguyen Phu Trong (R) chairs a National Assembly meeting in Hanoi on Feb. 14 (Photo: Vietnam News Agency)
The Vietnamese official expressed his joy to see the immense success that the Chinese people have earned during their renewal and in the course of building socialism.
Quan passed on Trong's invitation to visit Viet Nam to Party General Secretary and President Hu and other Party and State leaders.
At the reception, Hu thanked Trong for sending a special envoy to China to promptly and directly inform Chinese leaders about the results of the 11th National Party Congress.
He warmly cheered the Vietnamese Communist Party on the success of its 11th Congress and Trong for being elected as the General Secretary for the 11th tenure.
Hu stressed that under the motto "Friendly neighbourliness, comprehensive co-operation, long-term stability and future-looking vision" and the spirit of "Good neighbour, good friend, good comrade, and good partner", the comprehensive strategic co-operative partnership between the two Parties and countries has constantly been strengthened and deepened.
He affirmed that the traditional friendship was a valuable asset for the two countries' Parties and peoples and also served as a foundation for each country's development.
"The Chinese Party, State and people will do their best together with the Vietnamese Party, State and people to elevate the comprehensive strategic co-operative partnership to a new height for the sake of their nations and peace, stability and development in Asia and the world as a whole," Hu said.
The Chinese leader briefed the Vietnamese official on achievements China gained in implementing its 11th Five-Year Plan as well as the outcomes of the fifth meeting of the 17th Central Committee of the Communist Party of China (CPC).
He suggested the two countries boost high-level exchanges in a comprehensive and practical manner.
The same day, Special Envoy Quan held talks with Wang Jiarui, a CPC Central Committee member and head of the CPC's International Liaison Department.