Party General Secretary Nguyen Phu Trong has called on the capital city of Hanoi to get rid of bad habits such as giving gifts to bosses, holding rampant festivals, and superstition during the Lunar New Year festival (Tet).
Comrade Trong, who is also National Assembly Chairman, made this call while paying a Tet visit to the Hanoi administration and armed forces on February 1 or 29 th of lunar December, the last day but one of the outgoing Year of the Tiger.

"The top priority now is to ensure social parity, reduce the gap between the rich and the poor and strengthen public confidence in the Party," the Party leader said.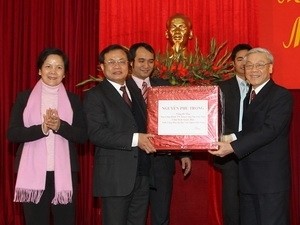 Party General Secretary Nguyen Phu Trong (R) and Pham Quang Nghi, Party Secretary of Hanoi
He added that to reach that goal every cadre and Party member should set an example in leading a healthy life and take the initiative in the fight against aloofness, corruption and waste.

Party leader Trong praised the capital city for holding the millennium celebration in a practical way, which has inspired locals to contribute more to national construction and left an impression of a peaceful and stable Vietnam with a rich and special culture among the international community.

Hanoi was reported to record an economic growth rate of over 11 percent in 2010 and an annual per-capita income of 1,950 USD despite the global economic crisis.

Also on the day, Truong Tan Sang, Party Politburo member and Permanent Member of the Party Central Committee Secretariat, paid a Tet visit to the southern province of Long An.

He paid tribute to fallen soldiers at the martyr cemetery in Duc Hoa district and visited the Happy Land enterprise which is to invest in Southeast Asia 's largest entertainment complex in Ben Luc district./.