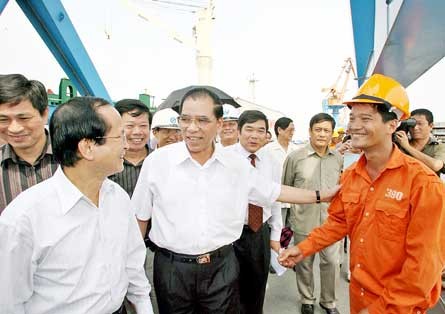 Party leader Nong Duc Manh talks with workers at Dinh Vung Port of Thuy Nguyen District.
Party General Secretary Nong Duc Manh asked
the northern port city of Hai Phong to focus on sustainable development and create a breakthrough in the quality of growth.

While paying a working visit to the coastal city on August 6-7, the party leader urged Hai Phong to take advantage of its natural conditions and geographical position to accelerate socio-economic development so as to deserve its role as one of the driving forces for development in the region and the whole country.

Hai Phong should combine its development scheme with regional development master plan as well as with those of neighbouring localities, General Secretary Manh also said.

The Party General Secretary praised Hai Phong for its achievements over the past two years, including high economic growth of 12.82 percent in 2007 and 12.2 percent in the first six months of this year.

However, he underlined a number of shortcomings the city should address, saying that economic scale has failed to match its potential, some industries' competitiveness has remained low and several key projects have moved slowly.