On April 10, Party General Secretary Nguyen Phu Trong visited a joint Vietnamese-Cuban project to grow rice in Palacios district, in the western province of Pinar del Rio.


Under the project, rice has been grown on over 3,000 ha that produced 170,000 tonnes of rice after just over a year. The project will run until 2015.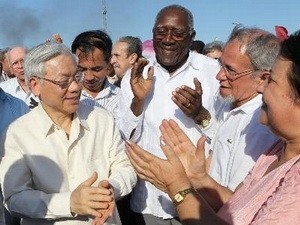 General Secretary Nguyen Phu Trong (L) meets with Cuban people at a meeting at Hai Phong Wharf in Havana Port (Photo: VNA)
General Secretary Trong visited the rice field and met Vietnamese specialists and Cuban farmers working on the project.
He said that the rice project is a cooperative model of significance between Vietnam and Cuba, and while Cuba has good quality land and ideal weather conditions for its agricultural sector, Vietnam has a lot of experience in cultivating rice as well as fruit and vegetables.
Trong said he hopes that both countries will work closely together to raise efficiency, which will benefit the local people and contribute to the friendship and cooperation already established between the two countries.
Later the same day, Vietnam 's Party leader attended a meeting at the Hai Phong Wharf in Havana Port.
When giving his opening address, Trong said that withstanding the test of time and political fluctuations during the past 50 years or more, the solidarity and friendship shown between Vietnam and Cuba has never waned and has become an invaluable asset for both Parties and peoples.
He added, that for Vietnam , Cuba is a symbol of revolutionary heroism, international solidarity, and an indomitable spirit that represents freedom, progress and human dignity.
On behalf of the Vietnamese Party, State and its people, Trong congratulated the Cuban People on their achievements under the leadership of the Communist Party of Cuba.
He confirmed Vietnam 's solidarity and support for the Cuban people's just struggle and asked the US to immediately put an end to their embargo on Cuba , as well as actions and movements that cause instability in Cuba .
On the occasion Trong handed over 5,000 tonnes of rice to the Cuban people as a gift of solidarity from the Vietnamese people.
On the evening of Apr. 10, General Secretary Trong visited the Vietnamese Embassy in Cuba .
During General Secretary Trong's visit to Cuba , the Secretary of Hanoi's Party Committee Pham Quang Nghi also held a meeting with officials from Havana 's Party Committee.
Nghi was received by Mercedes Lopez Acea, a member of the Politburo of the Communist Party of Cuba's Central Committee and First Secretary of Havana 's Party Committee.
Nghi presented over 50 computers and numerous souvenirs to Havana 's Party Committee.
Later the same day, Nghi met with Kenia Serrano, President of the Cuban Institute for Friendship between Peoples (ICAP), and donated 400,000 USD to the organisation so they can build a Cuban-Vietnamese friendship school in Havana