Party General Secretary Nguyen Phu Trong on October 4 concluded his State visit to the Republic of Korea (RoK) under an invitation of President Park Geun Hye.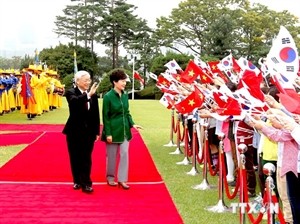 Party General Secretary Nguyen Phu Trong is welcomed by President Park Geun Hye (Source: VNA)
During his stay from October 1-4, the Party leader held talks with the RoK President, and met with Prime Minister Chung Hong Won, National Assembly Speaker Chung Ui Hwa and Chairman of the Supreme Council of the Saenuri Party Kim Moo-Sung.
He also visited Busan city and the Hankuk University of Foreign Studies, and received leaders of several leading RoK groups and enterprises.
In the talks and meetings, the two sides discussed important and practical issues related to bilateral ties as well as regional and international issues of mutual concern.
The two sides adopted a seven-point joint statement, which put forward major orientations and measures to step up cooperation in politics, diplomacy, trade, investment and security and defence.
They signed four cooperative agreements, including a credit programme worth USD 12 billion to assist prioritised development projects in Vietnam.
The Communist Party of Vietnam and the Saenuri Party inked a document on cooperation for the 2015-2016 period on the basis of their 2011 Memorandum of Understanding.
Later the same day, General Secretary Nguyen Phu Trong sent a message to RoK President Park Geun Hye expressing his thanks for the warm reception and the friendly sentiments that RoK leaders and people had given to him and the Vietnamese delegation.
In the message, the Party leader expressed his belief that the outcomes of the visit will contribute importantly to boosting the Vietnam-RoK strategic cooperative partnership comprehensively and deeply, for common prosperity of the two countries, for happiness of the two peoples and for peace and development in Asia.
"I bring home with me deep impressions of a beautiful and prosperous Republic of Korea in strong development and the friendly and hospitable Koreans as well as a firm belief in the bright future of the friendship and cooperation between our two countries," Nguyen Phu Trong wrote in the message.