A delegation of the Party Central Committee, the President, the National Assembly, the Government and the Việt Nam Fatherland Front Central Committee paid tribute to President Hồ Chí Minh and fallen soldiers this morning on the occasion of the 71st anniversary of the August Revolution and National Day.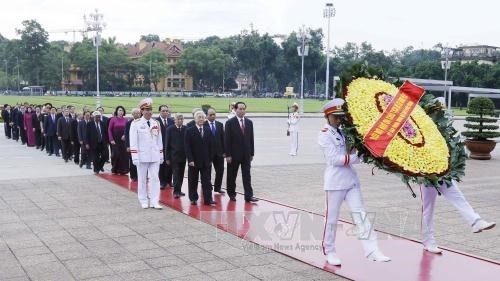 Country's top leaders pay tribute to President Hồ Chí Minh. (Photo: VNA/VNS)

The delegation included Party General Secretary Nguyễn Phú Trọng, President Trần Đại Quang, NA Chairwoman Nguyễn Thị Kim Ngân, Prime Minister Nguyễn Xuân Phúc and President of the VFF Central Committee Nguyễn Thiện Nhân, among others.

They laid wreaths at President Hồ Chí Minh's Mausoleum to express respect for the nation's great leader, who led the Party and the Vietnamese people through numerous glorious victories.

Offering flowers at the Monument to Heroes and Fallen Soldiers, the delegation paid one moment of silence in memory of the nation's outstanding heroes who sacrificed their lives for national independence, freedom, unification, territorial integrity and for socialism and noble international duties.

The same day, delegations from ministries, Hà Nội authorities and the diplomatic corps also paid their respect to President Hồ Chí Minh and fallen soldiers on the occasion of the anniversary.

The August Revolution in 1945 opened up a new era in Việt Nam's history, when the entire nation, under the leadership of the Communist Party of Việt Nam founded and led by President Hồ Chí Minh, rose up for national independence.

On September 2, 1945, President Hồ Chí Minh read the Declaration of Independence, declaring to the world the foundation of the Democratic Republic of Vietnam, now the Socialist Republic of Việt Nam.