Prof. Paul Krugman, who won the 2008 Nobel Prize in Economics, chaired an international workshop in Ho Chi Minh City on May 21.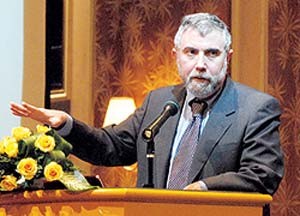 Professor Paul Krugman speaks at a workshop in Ho Chi Minh City May 21 (Photo: Thanh Nien)
The seminar, entitled "Searching for solutions and opportunities in a time of difficulty and crisis," drew the participation of close to 700 policymakers, scholars, economists, diplomats and businesspeople from Vietnam and other regional countries.
Krugman, who was described as one of the world's 20 most influential people by the Times magazine, presented a number of solutions that nations could adopt to weather the difficulties arising from the global economic crisis.
According to the professor, countries should take a tighter control of their financial and banking systems to ensure they are operating safely, as well as increasing the amount of stimulus packages.
Enhancing business ethics, reducing environmental pollution, mitigating the impacts of climate change and improving the ability to forecast financial trends were amongst the suggested measures.
Krugman said that the world is still in difficult times and it will take a few years to recover. There is no shortcut for the global economy to get over the crisis quickly, as it needs a boom in new investments and new technologies such as green and clean technologies to foster economic development, he added.
For Vietnam, the professor praised the country's efforts to create a story of success in economic development, adding that Vietnam's dependence on the export of raw materials and a cheap and readily available workforce is understandable as it is still in the first stages of development.
Vietnam could export more hi-tech products with a higher value and use its workforce more effectively in the future, he said.
The professor advised Vietnamese policymakers who are working out ways of managing the financial-banking system more effectively and stepping up production, to generate more jobs instead of spending money on derivative financial tools.
The professor also expressed his belief that Vietnam will soon overcome its current difficulties, achieve stability and speed up its development.