The family of General Vo Nguyen Giap opened the doors to the public to allow thousands of people coming from every corner of the country to pay their last respects and offer their condolences to their beloved and respected leader.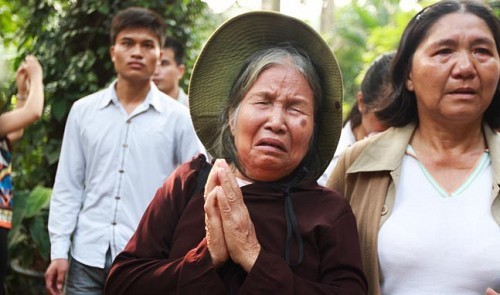 Nguyen Thi Cuc, 74, cries as she pays her last respects to General Giap (Photo: Tuoi Tre)
The General's private house at 30 Hoang Dieu Street in Ba Dinh District in Hanoi was opened to welcome those who wish to pay their respects to the General until Friday, from 8am to 11.30am and from 2pm to 4pm.
Before the family of General Giap opened the house to the public, thousands of people had already gathered outside the house.

Among these were old women with white hair to very young people who queued in front of the General's house to pay their last respects to the legendary general for the last two days.

Many people, both young and old, emerged rubbing tear-streaked faces when they shared their feelings of the first General of the Vietnam People's Army in a memory book. They expressed an extraordinary outpouring of grief and wrote movingly of the death of their most revered General.

The one kilometer huge queue of people snaked along the wide path leading to where people could take turns to pay their last respects of Vietnam's legendary General.

Retired army colonel Nguyen Van Hieu, 72, who was the General's close person assistant from 1949, was the first visitor.  With slight tremor in his step due to his old age, he stood silently by the altar watching the picture of the General.

Many veterans were seen at the General's house and some of them coming from distant districts, who braved their old age and long journey to come for a last visit to pay their respect to their beloved General.

Bui Van Hung, 73, from the northern mountainous province of Hoa Binh, who fought during Vietnam's war with America, said "Despite difficulties and the long distance, I have to come here for a last visit to the eldest brother of soldiers".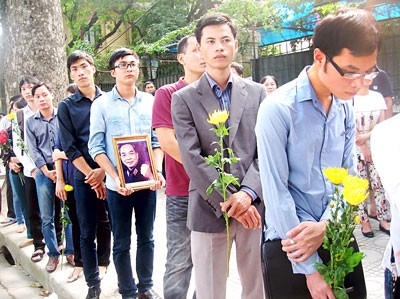 People nationwide carrying flowers to pay last tribute to General Giap (Photo: SGGP)