Aggressive advertising campaigns launched by the pesticide industry is having a negative effect on farmers, who are increasing the use of chemicals and causing more environmental pollution in their fields.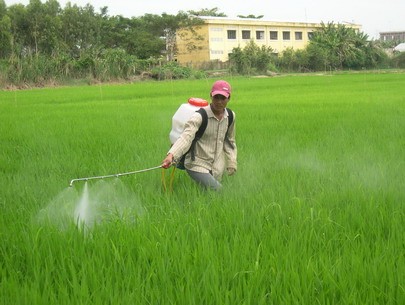 Vietnamese farmers increase using pesticide due to aggressive advertising
Scientists, managers and representatives of pesticide companies appear on TV  programs quite frequently. An agriculture staff in the Mekong Delta province of Hau Giang said it is hard to distinguish between scientific programs or advertisements for pesticides.
According to a recent survey conducted on over 1,000 farmers by the Department of Plant Protection in the Mekong delta province of Tien Giang, 57.9 percent farmers spray pesticides on rice crops when the plant is less than 40 days old and 11.3 percent use pesticides on 15 day old plants.
The Department of Plant Protection has issued a warning that the government should minimize advertising of pesticides and agricultural staff should instruct farmers to spray pesticide in the right proportions. The warning was issued to protect crops in the upcoming winter-spring crop season.
Pesticide advertisements broadcast via TV across the country have been considered as normal as shampoo, detergent or soap ads, resulting in an upward trend in the use of chemicals on crops.
Although the Ministry of Agriculture and Rural Development has issued a decree on pesticide management, it is not effectively implemented. Consequently, the Department of Plant Protection petitioned that pesticides should be considered as a commodity under the management of the government.