Petrol has been brought illegally to Cambodia across borders in the Mekong Delta provinces of An Giang and Kien Giang because local prices are VND3,000-4,000 per litter lower than in Cambodia.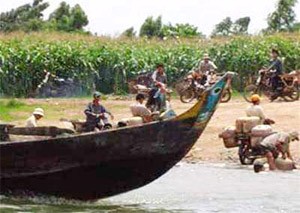 Petrol carried in cans in An Giang bound for Cambodia
Smugglers have filled petrol in 20-30-litter plastic cans to transport to Cambodia by motorbikes and boats.
Local residents said many petrol stations are eager to sell to smugglers but reluctant to sell to normal consumers. Some even close during the day to serve only smugglers at nighttime.
Since early this month, the Kien Giang's anti-smuggling unit has seized 15,000 litters of petrol from smugglers.
The illegal trade has been carried out mostly in Tinh Bien town in An Giang Province's Tinh Bien District, Tan Khanh Hoa town in Kien Giang's Kien Luong District and My Duc Ward in Kien Giang's Ha Tien town.
To prevent smuggling, the People's Committee of Kien Giang has instructed petrol stations at border areas to pump petrol directly to vehicles and not fill the fuel into cans.
It also called on relevant agencies to intensify patrolling around the borders.
For automobiles which are permitted transit in Viet Nam, a driver can buy maximum 50 litters, enough to drive around and return to the borders while ships on domestic routes 100 litters at most.