A private petrol station in the southern province of Binh Duong was caught by the police on April 12, in the act of falsely showing an increase in the volume of petrol displayed on its metre.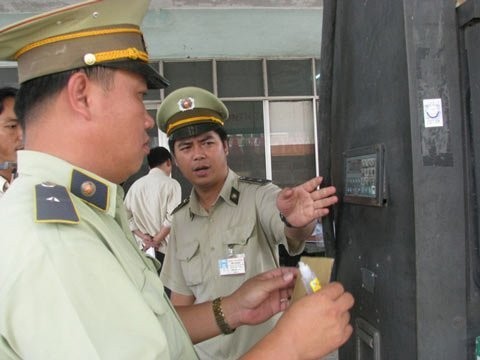 Inspectors check the petrol filling tanks
Police officials from the Bureau of Criminal Investigation on Economy and Position and Market Management Force in Binh Duong Province caught the Doc Lap private petrol station on 1 Doc Lap Street in the Song Than Industrial Zone in Di An Town, trying to deceive customers by showing an increased volume of petrol compared to what it was actually selling.
The petrol station has installed a software programme on four of its petrol filling tanks to show a 3 per cent increase in petrol volume than the actual amount it sells. That is to say, a client loses 0.3 litres if he buys 10 litres of petrol at the station.
Moreover, this trick is so sophisticated that it is hard to detect by inspection teams and relevant agencies. When inspectors arrive at the station, the employees simply disconnect the electric circuit and all four petrol filling tanks will work normally without anyone being able to detect a fraud.
Using this method, the petrol station appropriated money from innocent customers for a long period of time without getting caught.