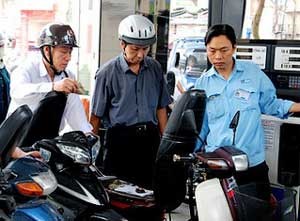 Ho Chi Minh City bike riders get gasoline refilled
Major importers of petroleum products in Vietnam raised retail prices of gasoline and oil by VND500 per liter this Friday morning, following a nod from the Ministry of Finance, and Ministry of Industry and Trade.
Gasoline A92 is retailed at VND12,500 (US$0.74) per liter from VND12,000, gasoline A95 at VND13,000, kerosene at VND12,000, and diesel VND10,500.
The two ministries issued a joint decision for this time's price rise late May 7, ordering petroleum importers not to increase their retail prices by the beginning of May 8.
This is the third increase so far this year.
Following increasing oil prices in the world market, major importers in the country asked for Government permit to raise retail prices late April. The two ministries did not approve until Thursday.