The Ho Chi Minh City People's Court Wednesday sentenced French-Vietnamese Pham Minh Hoang to three years' imprisonment and three years under house arrest for "conducting activities to overthrow the Government."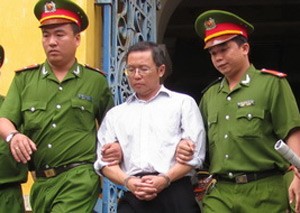 Pham Minh Hoang (C) is escorted out of the court after trial in Ho Chi Minh City on August 10, 2011 (Photo: Tuoi Tre)
The indictment said Hoang was born in 1955 and went to France for study in 1973. He then stayed there and earned French nationality.
In 1998, Nguyen Ngoc Duc and Nguyen Thi Thanh Van, two members of Viet Tan, which the indictment said was a reactionary organisation, made him another member. He then returned to Vietnam in 2000 under a Viet Tan instruction, and became a contracted lecturer at the HCMC Polytechnic University.
He earned Vietnamese nationality again in 2007, according to the indictment.
Between July 2002 and May 2010, under the penname Phan Kien Quoc, he wrote 33 articles that distorted the Vietnamese State's and Party's guidelines and policies to blacken the image of the country, the indictment said.
Viet Tan spread the writings out on the Internet in an attempt to propagandize, entice and provoke people to topple the Communist Party of Vietnam and the Vietnamese State, the indictment added.
Late November 2009, Hoang attended a three-day training course in Malaysia held by Viet Tan, on ways to keep Internet information confidential and adopt non-violent fighting methods, according to the court.
After this training, Hoang organized four training classes to 43 students and youths for Viet Tan, the indictment said.
Hoang admitted his offence at the court. He said his writings did not reflect situations in Vietnam exactly, and they undermined the country's solidarity policies and the regime's prestige.
Criminal proceedings were not launched against his accomplices, his wife Le Thi Kieu Oanh and Nguyen Thanh Hung, who joined the Malaysia training course with him.
The panel of judges said that sufficient evidence had been presented to convict Hoang of "conducting activities to subvert the public Government" and that his offence was "particularly serious, undermining national security."