Philip Morris Vietnam (PMV) has granted VND650 million (US$40,600) to improve the livelihoods of 60 poor households and build 20 houses for donation in Can Tho City.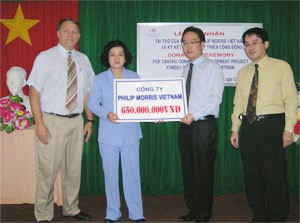 Phillip Morris Vietnam donates VND650 million to support poor households in Can Tho
PMV has partnered with East Meets West and the Can Tho Red Cross to implement these community projects within the city. The funds will also support training and refresher courses on first aid skills for 320 grass-roots volunteers and schoolteachers. It will also equip two first-aid stations to manage injuries and accidents that occur in the communities and schools.
At the donation ceremony in Can Tho, Mr. Tae Koo Kang, PMV's General Manager said "Supporting local communities wherever we do business has been part of Philip Morris Vietnam's culture for many years".
In recent years, PMV has helped communities by funding the construction of projects such as a secondary school for 500 students in the coastal province of Phu Yen; the construction of 46 houses for the disaster victims in Da Nang and Quang Nam, and an additional 75 houses for the typhoon victims in Thua Thien-Hue Province.
Most recently in November 2007, PMV provided VND150 million (US$9,300) worth of emergency relief for the 400 flood victims families in Son La and contributed another VND105 million (US$6,500) through the Can Tho Red Cross for the Can Tho bridge disaster victims.