SGGP's annual charity concert 'Spring of Love' is still two days away but organizers are not feeling any winter chill, with enormous support pouring in.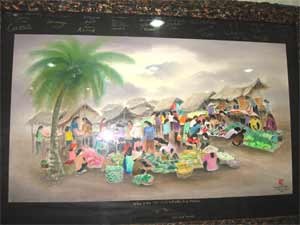 The silk painting 'Cho Que' (Photo: Truong Son)
Many bidders have already registered for the charity auction of the silk painting 'Cho Que' ('Countryside market') by Nguyen Thi Tam. The auction was launched a week ago and organizers are encouraging more bidders to register on (+848) 3834 1018 and (+84) 903 98 6070.  
The successful bidder in the auction will not only win the 1.1m x 1.6m painting but will also receive a bonus gift of the autographs of 10 consul generals in HCM City, who have signed the painting. 
In preparation for the auction on Saturday night, Saigon Telecommunications has set up a hotline: (+848-3) 823 9823. The hotline will be open during the 'Spring of Love' charity concert from 8 p.m. to 10.30 p.m. Bidders who have not yet registered for the auction, can relax at home and join the auction via the hotline. All calls will be recorded and considered official bids. 
The proceeds from the auction of the painting and two cellphone SIM cards with easy-to-remember numbers - 0933 42 1111 and 0933 42 0000 - will be announced at the end of the concert. The money will be donated to SGGP's fund to support the poor in the HCM city and remote areas across the country before Tet  
SGGP's 'Spring of Love' charity concert will begin at 8 p.m. at Lan Anh Music Club in District 3 on December 27. It will also be broadcast live on HTV9. 
Related articles:

Hearts reach out to help through charity concert
Tet and Christmas spirit of giving
Sai Gon Giai Phong concert to raise money for poor