The Hanoi Department of Information and Communications ordered all telecommunication companies to discontinue their services to more than 13,000 subscribers who are violating the regulations set for advertisements.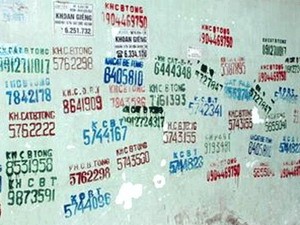 Hanoi is discontinuing services to 13,000 subscribers who have pasted the city walls with their telephone numbers. (Photo: Vietnamplus)
Illegal advertisements cover many walls along the streets and alleys of the city.

Authorities have hence decided to remove or paint over these advertisements to improve the landscape of the city.
However, specific places will be allotted for advertisements for various businesses and causes.
The Department also directed the police to monitor three telephone enterprises, namely, Vietnam Post and Telecommunication, Mobifone and Viettel to implement the decision to discontinue services to subscribers.