A large fire has destroyed 25 hectares of Cajuput forest in the hamlet of Bai Vong, Ham Ninh Commune Phu Quoc District, Kien Giang Province February 26.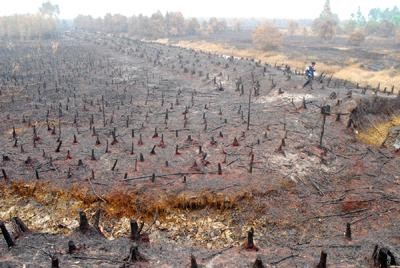 The aftermath of a forest fire in An Giang Province 2008. 25 hectares of Cajuput forest in Phu Quoc was ravaged by a large fire. (Photo: nongnghiep.vn)
Firefights took three hours to put out the flames.
Hundreds of tourists and residents in the neighboring areas were evacuated. There were no reports of injuries.
According to an eye witness there was a small trace of drifting smoke when then fire suddenly flared up and rapidly spread.
Nguyen Huu Hanh, chairman of the Ham Ninh Commune People's Committee said that there were three households living in the forest. When the fire began, they had enough time to evacuate.
He said that the forest is located on the Bai Vong entertainment complex and golf course, which covers an area of 570 hectares.
Authorities are investigating the cause of the fire.
Cajuput is used for herbal oils and ointments, such as Tiger balm.