Phu Quoc Island in the southern province of Kien Giang will be developed into an international eco-tourism venue and regional financial center under a master plan to adjust construction of the island by 2030, approved by the Prime Minister.
Ngo Quang Hung, director of the Southern Urban and Rural Planning Institute and the plan, said the plan is aimed at ensuring the island's sustainable development and the preservation of its marine and forest biodiversity.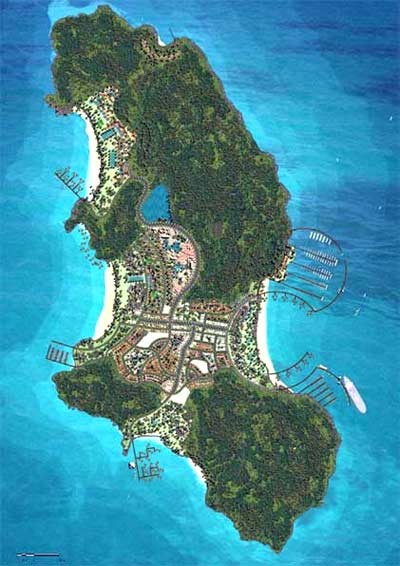 A view of Phu Quoc Island in the southern province of Kien Giang
Urban areas
Though the island is set to become an international tourist destination and regional financial center, only 15.19 percent of its total area of 58,923 hectares is set for developing urban and tourist areas, and 64.64 percent of the area is forest.
Areas for landscape, farming and other special construction projects will seize 5.77 percent, 9.13 percent and 5.75 percent respectively.
Mr. Hung said such division aims to ensure the island's sustainable development, the prevention of deforestation and the domination of the beach for tourist areas.
Old forest, fishing villages and pepper farms will be preserved and developed, and beaches with their natural beauty will be protected, he added.
The island's population will be controlled at an appropriate rate, with 340,000-380,000 by 2020, of which 200,000-230,000 will be urban residents, and 500,000-550,000 by 2030, of which 320,000-370,000 will be urban residents.
Multi-center model
The development model of the eco-tourism city of Phu Quoc divides the island into sections north and south of An Thoi-Cau Trang and includes a transport axis around the island. The axis is connected to international seaports of An Thoi, Bai Dat Do and the Duong To international airport.
The Duong Dong urban area will be the center of Phu Quoc's tourist area. This will be a hub for administration, public service and international financial trade.
The An Thoi urban area will focus on developing seaports, trade and services. Meanwhile, Cua Can will become a center for scientific research activities, training and education.
Forests, eco-tourism, handicraft villages and hi-tech agriculture will be preserved in the north. The south will be for the development of eco-tourism, seaports, international airports, forests and parks. The west will focus on developing eco-tourism areas and traditional handicraft villages. The east will concentrate on agricultural development attached to persevering natural scenery.
In the Duong Dong urban area, the axis of trade and offices that faces the sea will be the area's main axis. The axis will begin with an administrative and political center and ASEAN square and end in Marian seaport.
The Cua Can urban area will be designed as a converging place of main transport roads, with architecture that does not impede nature.
The An Thoi urban area will see a harmonious development of old and new resident areas, creating an open space for tourists to view the island's sunsets. 
The island will accommodate public services, administrative works, luxury hotels and trade centers at Bai Thom and the urban areas of Cua Can, Duong Dong and An Thoi.
Phu Quoc Airport, An Thoi Seaport, Duong Dong Inland Port and the north-south main road around the island will be prioritized projects.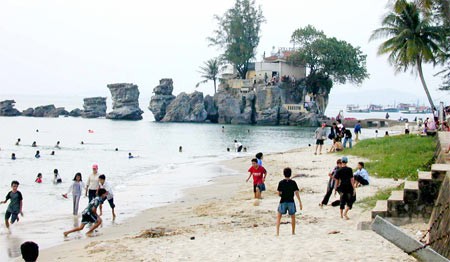 A beach on Phu Quoc Island (Photo: SGGP)
Tourism
Tourism is among the main development orientations of Phu Quoc Island.
Among the locality's development plans, Phu Quoc will have 15 eco-tourism areas, including Bai Thom, Ganh Dau, Rach Tram, Rach Vem, Bai Dai, Vung Bau, Cua Can and Bai Ong Lang and two general tourism complexes of Bai Vong and Vinh Dam, as well as the Bai Truong general tourism complex.
The island is forecast to receive 2 – 3 million visitors annually between now and 2030 with that figure set to rise to 5 – 7 million in 2030 with international tourists making up 40-50 percent of visitors.
Phu Quoc welcomed 25,000 foreign arrivals in the first quarter of 2010, up over 30 percent on year.
Under the plan, tourism projects located on the island will enjoy investment incentives and lots of infrastructure projects will be carried out.
Phu Quoc, Vietnam's largest and most populous island with 85,000 inhabitants, spans more than 561 square kilometers, including 150 kilometers of coastline.
The island sits 500 kilometers southeast of Thailand, 700 kilometers east of Malaysia and 1,000 kilometers to Singapore. It is also near the southwest gateway to Cambodia's Kep city and Sihanouk Port.
On October 5, 2004, former Prime Minister Phan Van Khai signed a decision approving the master plan for developing Phu Quoc Island in Kien Giang province with outlook until 2020.

The island authorities have granted licenses to 52 investment projects so far, most of them involving tourism.