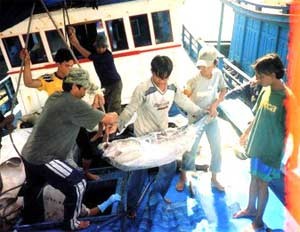 Vietnamese fishermen catch a tuna on the central coast
Phu Yen Province's Tuna Fish Festival was staged in Tuy Hoa City on March 31 as one of activities celebrating the 395th anniversary of the establishment of the central province.
The festival aimed to honor the province's tuna industry and promote tuna fish products. A ceremony was held to worship sea gods, while 20 fishing boats decorated in the shapes of tuna fish, shrimp, crab and other sea animals were sailing in the waters to pray for an abundant fishing season.
On the same day, a mini marathon was held in the province's Dong Hoa District with the participation of 150 runners, also to celebrate the anniversary.