Prime Minister Nguyen Tan Dung yesterday urged leaders of central Phu Yen Province to improve its investment environment as a way to make a breakthrough in its development process.
The province should create favourable conditions for investment in the sectors which are deemed to be the driving forces for socio-economic development, he said.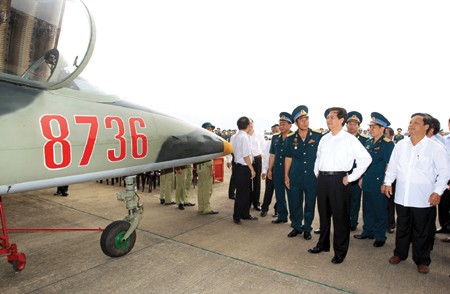 Prime Minister Nguyen Tan Dung visited Air Defence Force's 910 Training Regiment in central coastal Phu Yen Province yesterday. — VNA/VNS Photo Duc Tam
The province's strengths lay in agriculture, aquaculture and seafood processing and tourism, according to the Prime Minister.
Dung requested the provincial leaders to find solutions to help businesses and producers overcome difficulties in the current economic downturn, while paying much more attention to health care, education, job creation and poverty reduction.
The authorities should also diversify models of investment to speed up the implementation of key infrastructure projects in the province and ensure the capital is used effectively.
Chairman of the provincial People's Committee Pham Dinh Cu affirmed that this year, Phu Yen would make its best efforts to reach a GDP growth rate of 12.5 per cent, create 23,500 jobs, and build 400km of rural road.
Last year, the province's GDP growth rate was at 10.5 per cent, and more than 22,500 people got employment. Industrial production value in the first quarter of the year increased by 12.2 per cent compared to the same period last year.
Earlier the same day, Dung inspected the combat training at Air Force Regiment 910 and worked with the Air Defence-Air Force.
The PM affirmed the importance of national defence and asked the Air Defence-Air Force to always heighten vigilance and preparedness as it continues to build a strong air force to fulfil all assigned tasks.
At a meeting with its officers and soldiers, Dung praised the regiment's achievements, as well as its contributions to the country over the past years, noting that the defence building task is still extremely important for a peaceful country.
The regiment has to give lessons on patriotism, morality and dignity to pilots and officers in the new revolutionary period so that they become a unified unit, which is absolutely faithful to the Party, State and people, and deserving of the heroic regiment's glorious tradition, he added.
He asked the regiment to actively renovate its training methods, especially for pilots.
Over the past 54 years, Regiment 910 has always fulfilled its assigned duties, including the training of thousands of Vietnamese pilots, thus improving the fighting capacity of the country's Air Force. It has also actively participated in search and rescue activities.