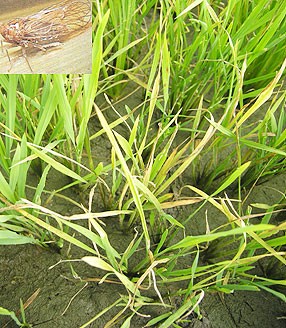 Virus from brown hopper makes rice gradually turn yellow from root to leaf.
Two diseases caused by the brown plant hopper are infecting nearly 60,000 hectares of paddy in the Mekong Delta.
One of them, called "vang lun" in Vietnamese, stunts the rice and makes it gradually turn yellow from root to leaf. The other, "lun xoan la", curls the rice leaf.
Experts are blaming the outbreak on today's farming practices such as non-stop cultivation, as well as weak seeds and therefore plants.
"In the hope of isolating the virus from the brown hopper, the Prime Minister banned a third crop this year, but many provinces have ignored him," said Pham Van Du, deputy director of the Mekong Delta Rice Research Institute, "If the brown plant hopper transmits the diseases to the winter-spring crop, we will be faced with a severe shortage of rice seeds for the next crop." 
Thousand of farmers in Mekong Delta have lost their entire crop because of the two diseases. In the affected provinces like Dong Thap and Long An, the authorities have helped the growers destroy their withered plants.
Because there is so little State aid, however, many farmers cannot be persuaded to plough up their paddy fields. Others are trying to compensate by selling their rice as duck feed.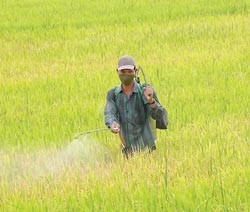 A farmer tries to recover his withered plants.
According to the Mekong Delta Rice Research Institute, growers in the region tend to favor quality rice seeds such as Jasmine, OM 1490, OM 2514, OM 2717 and ST1, which have little if any resistance to pests.
These rice seeds are grown in more than 70 percent of the farmland in Kien Giang and Dong Thap provinces.
"Planting a third crop at Mekong Delta has to stop immediately" said Dr. Bui Chi Buu, who heads the Institute for Agricultural Science Technology.
His warning has come too late, though, as nearly 400,000 hectares of the year's third crop is growing in the Mekong Delta - easy prey for the brown plant hopper.
"If 10 percent of the winter-spring crop gets these diseases, the nation's food security will be severely threatened," said another expert.