On April 19, the Security and Investigation Department of the Ministry of Public Security indicted Vo Viet Dzien and placed him in custody for four months, over charges of plotting to overthrow the People's Government of Vietnam.
Dzien, born 1971 in the Mekong delta province of Tra Vinh, had formed links via the Internet with the 'Phuc Hung Vietnam' organisation, a reactionary group established in 1978 and based in the United States, whose goal is to sabotage and discredit the Government of the Socialist Republic of Vietnam, police investigators told the press.
In November 2011, Dzien went to Singapore to meet with leaders of 'Phuc Hung Vietnam', namely Nhat Thang, Tran Quoc Bao, and received nearly US$2,000 to buy equipment like computers to spread information and recruit people to go to Thailand for training.
Dzien then received a further $2,000 and went to Cambodia and Thailand by land, to meet members of the organisation from March 26 to 30.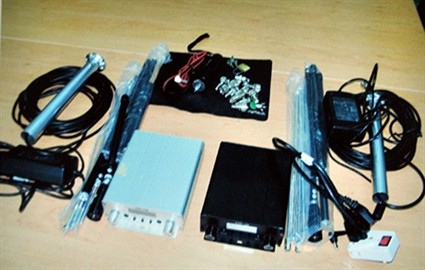 Equipments to jam radio frequencies and to carry out acts of espionage by Vo Viet Dzien ( photo Lao Dong )
At that time he received espionage training and was assigned a five point task: to jam radio frequencies; broadcast anti-state messages; cause unrest among the Chinese-Vietnamese community in Vietnam, so as to cause a divide in people of Vietnamese and Chinese origin; entice people to demonstrate against China under the pretext to claim sovereignty over Truong Sa and Hoang Sa archipelago islands; buy land to build an army base to 'liberate' the country and distribute anti-state leaflets during Reunification Day on April 30, all aimed at overthrowing the People's Regime.
Prosecutors at the Ministry of Public Security pointed out that all of Dzien's activities violated Vietnam's law under Article 79 of the Criminal Code.
However, the dark schemes of 'Phuc Hung Vietnam' were nipped in the bud as Dzien was watched and followed closely by the anti-espionage police in Vietnam. He was arrested on the Vietnam-Cambodia border soon after he returned from Thailand.
In April 2012, Dzien admitted his guilt and begged for leniency from the government.