Tourism development is steadily threatening the ecosystem in the central region of Vietnam, which is home to many endangered species of flora and fauna, with several listed in the Red Book of Vietnam.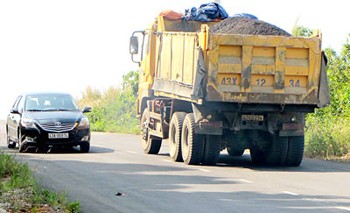 The broadened roads now facilitate truck traffic in the Son Tra Natural Reserve, affecting the flora and fauna (Photo: SGGP)
Son Tra Natural Reserve in Da Nang City has an area of 3,700 hectares with nearly 1,000 plants varieties including precious herbs and 287 species of animals.
Son Tra is famous for forest animals like stag, deer, monkey, gibbon, and the red-faced chicken. The area is particularly a known home to the douc langur.
Ten years ago, Son Tra was a green and wild peninsula with three sides facing the East Sea and one towards Da Nang City.
However, now it has become a large 'construction site'. Mountains are being dug and mined and dozens of villas and tourist sites have sprouted amidst the forest. Roads have been broadened for trucks to ply and bulldozers operate day and night.
According to Son Tra Forest Management Department, since 2003 it has handed over 840 hectares of forest land to the People's Committee of Da Nang City for licensed tourist projects.
Many people have expressed concern that the development of tourist sites and villas has badly affected and narrowed the living habitat for flora and fauna on the peninsula.
The 10,000 hectare Ba Na forest on Chua Mountain at a height of 1,487 meters in Da Nang which earlier was crawling with animals that came down to the plains to seek food, have now vanished. The majestic tigers and deer now shun the area or have moved to forests in the neighboring provinces of Quang Nam and Thua Thien-Hue.
The construction of the Asian Highway in Quang Binh Province, running through the Khe Net forest in Tuyen Hoa District has unintentionally created conditions for lumberjacks to deforest the area.
Scientists have determined that the 22,000 hectare Khe Net forest has 703 plant species and 280 types of vertebrate animals of which, 39 plants and 58 animals are on the endangered list.
The forest management force in the district seizes nearly 1,000 cubic meters of illegally chopped wood from Khe Net forest and groups of local residents organize long trips into the jungle to trap birds for selling in the market.
Related article:
Exquisite eco tourism sites in central region