Viet Nam's Goverment did its utmost to create favourable conditions for foreign investors and ensure their safety, Prime Minister Nguyen Tan Dung said yesterday.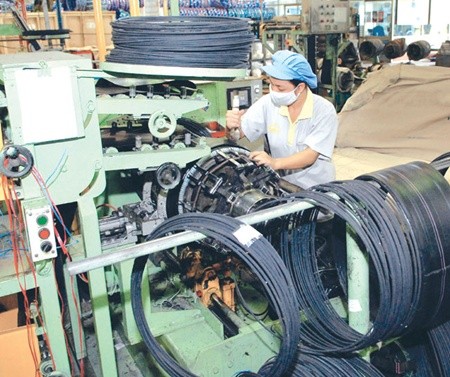 A worker produces rubber tyres at the Camel Viet Nam Rubber Co Ltd in the central province of Quang Tri's Huong Hoa District. Prime Minister Nguyen Tan Dung said that the Goverment did its utmost to create good condition for foreign investors (Photo: VNA/VNS)
Dung was speaking at the mid-term meeting in Ha Noi of the Vietnam Business Forum (VBF) which looked into preparations for new trade agreements.
Dung recalled the recent rioting in the wake of China setting up an oil rig in Vietnamese waters, saying that it affected Foreign Direct Investment operations.
He said the Government had implemented tough measures to stop further unrest and to help businesses recover from the consequences.
VBF co-chair Virginia Foote spoke highly of the Government's response to the incidents.
She suggested establishing a compensation agency with the help of foreign agencies to assess any damage matters in future.
Kim Jung In, chairman of the Korean Business Association in Viet Nam, called on FDI businesses to join hands with the Government, to handle "this difficult time".
Kim proposed the Vietnamese Government announce specific strategies to stabilise the investment climate, such as providing prompt compensation, offering low interest rates and tax exemptions for businesses hit by the recent unrest.
Delegates said they appreciated Viet Nam's implementation of its World Trade Organisation commitments, adding that it was holding negotiations on free trade agreements (FTAs) with global powers and actively taking part in Trans-Pacific Partnership (TPP) negotiations.
They said the deals would lay solid foundations for Viet Nam to integrate deeply into the global economy.
They added that to seize the opportunities, Viet Nam should aim for macro-economic stability, boost its economic restructuring, shift the growth model, and build an attractive environment for foreign investors.
The annual forum is used by the Government and domestic and foreign business communities to spur sustainable economic development.