Vietnamese Prime Minister Nguyen Tan Dung on December 24 asked for further efforts from government members to help the country achieve an economic growth of 9 percent next year and maintain a lower inflation rate.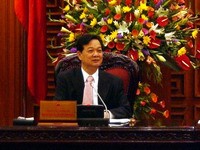 Prime Minister Nguyen Tan Dung
At a regular Cabinet meeting, which took place in Ha Noi on December 23-24, the PM also stressed the need to make a breakthrough in administrative reform and corruption prevention in the year to come.
It is necessary to boost administrative reform and introduce proper policies so as to increase investment by all economic sectors in infrastructure and human resources training, the government leader further said.
He requested an acceleration of production and the construction of major infrastructure works, and the deployment of a national programme on climate change.
In regard to a plan to ease congestions in the capital of Ha Noi and the southern economic hub of Ho Chi Minh City , the PM said improvement should be made in 2008 by upgrading traffic infrastructure in the two major cities.
Both Ha Noi and Ho Chi Minh City are required to map out specific plans to move hospitals and universities to outskirts areas, he said.
Participants at the meeting agreed that despite natural disasters, epidemics and world price fluctuations, Viet Nam maintained an economic growth of 8.44 percent this year.
In the year, the country attracted a record foreign investment of US$20.3 billion , exported $48.4 billion worth of products, reduced poverty rate to 14.87 percent from 19 percent and generated around 1.68 million jobs.
PM Dung said, however, that more should be done to overcome various shortcomings, including high inflation, slow administrative reform, poor management of land and infrastructure construction, as well as the overlapping of regulations.