Prime Minister Nguyen Tan Dung yesterday asked the Russian State Duma to support co-operation programmes between the two countries, especially in trade, oil and gas and nuclear power.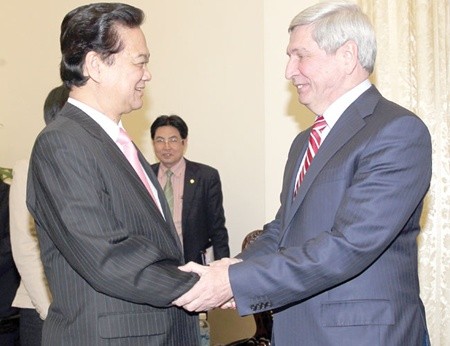 Prime Minister Nguyen Tan Dung (left) meets with First Vice Chairman of the Russian State Duma Ivan Melnikov in Ha Noi yesterday.(Photo:VNA)
He made the statement while receiving visiting First Vice Chairman of the Russian State Duma Ivan Melnikov yesterday in Ha Noi.
Also, Prime Minister Dung said he hoped the Russian State Duma would continue their support for the negotiation process and signing of the Free Trade Agreement between Viet Nam and the Customs Union of Belarus, Kazakhstan and Russia.
For his part, Melnikov affirmed the support of Russian State Duma for the existing projects and programmes between the two countries, mentioning the nuclear power project in Ninh Thuan Province.
On the same day, Melnikov met with Viet Nam National Assembly Chairman Nguyen Sinh Hung, and the two NA leaders agreed to actively implement signed agreements, maintain all-level delegation exchanges and experience sharing, while enhancing close collaboration at regional and international conferences.
Both sides also acknowledged that co-operation between the two legislatures has been continuously consolidated and developed in recent times, contributing to cementing the Viet Nam-Russia comprehensive strategic partnership.
Regarding the Viet Nam-Russia relationship, the two leaders agreed to continue strengthening co-operation in such areas as oil and gas, nuclear power, trade and investment, security and defence, science and technology, training, culture, tourism and labour co-operation, among others.
NA Chairman Nguyen Sinh Hung expressed his hope that Russia would act as a bridge for the co-operation between Viet Nam and other European countries.
The Russian State Duma Vice Chairman spoke highly of Viet Nam's achievements in social-economic development, saying that Viet Nam is becoming one of the most dynamic countries in the world.
On the same day, Melnikov met with NA's Vice Chairman Uong Chu Luu and politburo member and permanent member of the Communist Party of Viet Nam's (CPV) Central Committee's Secretariat Le Hong Anh.