Prime Minister Nguyen Tan Dung assigned a number of socio-economic development tasks to the Central Highlands province of Dak Nong during a working session with local authorities on February 9.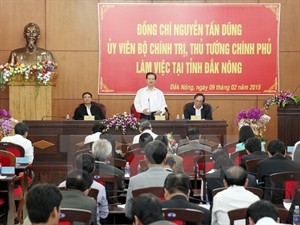 Scene at the working session in Dak Nong. Photo: VNA
Dak Nong has been requested to adjust its farmland planning, especially for high-value plants such as rubber, coffee and macadamia nuts, while embracing advanced technology in production and processing.
As natural and economic forests account for 48 percent of the total coverage, the Prime Minister asked Dak Nong to restructure 16 of its plantations and transfer additional forest plots to ethnic minority groups in a bid to improve their livelihoods.
Directing the development of bauxite processing industry, the leader urged the province to put the Nhan Co aluminium factory into operation later this year and launch other aluminium projects.
He also advised developing tourism services, especially eco-tourism, due to the region's temperate climate. In the meantime, universal access to social welfare services is a priority, he said.
Last year, the local economy grew by 12.2 percent, the average income per capita exceeded VND 32.5 million (US$ 1,500), and the rate of poor households was reduced to 13.75 percent.
In 2015, the locality is working towards an economic growth of over 12.25 percent, an average income per capita over US$ 35 million, and a 2 percent decrease in the household poverty rate.
In a working session with the management board of the Nhan Co aluminium plant on the same day, the PM suggested they learn from the success of the Tan Rai bauxite-aluminium plant in the Central Highlands province of Lam Dong, adding that the government vows support the project by clearing any policy or mechanism barriers.
The 650,000-tonne capacity plant was build through an investment by the Nhan Co Aluminium Jsc under the Vietnam Coal and Mineral Industries Group of over VND 16.8 trillion ( US$ 800 million).
In late January, its Engineering-Procurement-Construction contractor, the China Aluminium International Engineering Corporation, completed about 91 percent of the project's items and the domestic contract concluded 95 percent.