Prime Minister Nguyen Tan Dung on February 27 sent instructions to ministries to enhance fire-fighting and fire-prevention measures across the country.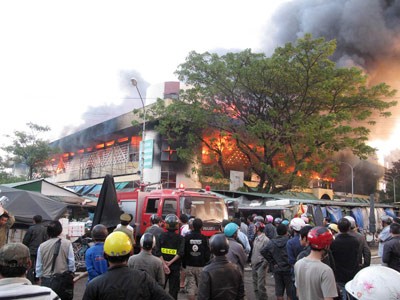 People watch hopelessly the huge fire which broke out in Quang Ngai Market in Quang Ngai city on Feb.9 (Photo:SGGP)
Earlier, even though departments at all levels were implementing fire-fighting and fire-prevention measures, the results have not been   satisfactory, as in repeated cases of fire explosions and blazes.
Recently, there have been many fires that caused immense property damage. On February 8 and 9, there were four cases of fires in which there was much damage. The biggest was the fire in Quang Ngai City causing loss of hundreds of billion VND.
There were many reasons for all the fires but the main cause was attributed to short electric circuit. Therefore, to prevent fires and explosions and to ensure social security, the Prime Minister has asked ministries, related departments, cities and people's committees of all provinces to establish patrols to check fire-fighting and fire prevention works.
In addition, the PM has also asked related agencies to check the power supply system to avoid electricity leakage and illegal encroachment.
Related agencies have been asked to focus on checking and thoroughly inspecting fire-fighting and fire-prevention measures in   buildings, trade centres, schools and big factories.
These checks will be implemented from now until March 30. The PM also asked ministries and related agencies to report soon after finishing the inspections.
The Prime Minister has asked related agencies to penalise violators severely. Authorities must regularly warn citizens to follow fire prevention regulations while increasing inspections, particularly in densely populated areas to minimise risk.