Vietnamese Prime Minister Nguyen Tan Dung called for more public involvement in education, healthcare, culture and sports sectors at a three-day conference opened yesterday in Ha Noi.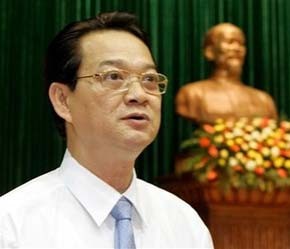 Vietnamese Prime Minister Nguyen Tan Dung
At the conference themed "Mobilizing public sources into education, healthcare, culture and sports", PM Dung said that the policy to enlist the private sector in education, heath, culture and sports was initiated as far back as 1990 but has not been fully fulfilled by now due to current mechanisms and policy.
For example, the Government is willing to allot lands to build public universities or hospitals but private investors have to struggle for lands themselves, PM Dung pointed out.
Dung added that many want to invest in the medical sector but are frustrated by cumbersome paperwork.
He suggested permitting state hospitals to partner with private investors to develop new projects or expand current networks.
"Why not allow the Cho Ray Hospital [biggest state hospital in Ho Chi Minh City] to join hands with the private sector to build a new hospital called Cho Ray B for example, firstly to exploit its trade name and secondly, to improve treatment quality?".
He also called for more public involvement in training human resources.
Only 30 percent of the country's labor force is trained, of which 5 percent through tertiary education, Dung lamented.
PM Dung, however, reported on some success.
Though the government aimed at financing only 20 percent of total education expenses by 2010, this target was met this year, i.e three years sooner, he elaborated.
For expenses at private nursery schools, up to 75 percent is contributed by the private sector and for secondary high schools, the ratio is 30 percent.
Viet Nam now has 30,000 private medical centers, 66 private hospitals and an additional 22 are being built, which all treat 3 million people per year, he reported.
Dung instructed the Ministry of Finance to cooperate with concerned agencies to create public projects that call for public investment and help boost their development.
A report from the Ministry of Culture, Sports and Tourism said many economic sectors have been participating in developing education, healthcare, culture, sports and physical training, in line with a Government resolution issued three years ago.
However, the report admitted that public awareness in this regard remains low.