Prime Minister Nguyen Tan Dung told Chinese businesspeople, including Hainan ones, that it is now a good time to do business in Viet Nam.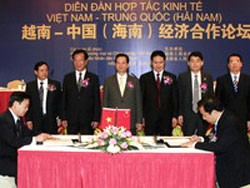 Prime Minister Nguyen Tan Dung (third left, standing) in the signing ceremony of an economic agreement between the Ministry of Industry and Trade and Hainan Province
Attending the Viet Nam-China Business Forum held in Hainan province on Oct. 21 during his China visit, PM Dung said, "The purpose of this visit by the Vietnamese government delegation is to work with Chinese leaders on measures to concretise the two countries' comprehensive strategic partnership with the priority given to trade and investment cooperation."
The PM stressed that the close proximity to each other is a favourable condition for Viet Nam and China to boost their comprehensive cooperation in general and Viet Nam's ties with Hainan province in particular.
He urged Hainan to increase cooperation in tourism, shipping, and the processing of farm, forestry products and seafood with Vietnamese localities towards a trade value of 1 billion USD by 2010.
Hainan Governor Luo Baoming, said the sisterhood ties between Hainan and Viet Nam's Quang Ninh province has laid a firm foundation for bilateral cooperation and the province's two-way trade with Viet Nam reached 260 million USD in 2007.
The Governor proposed the establishment of a dialogue mechanism on economic and trade cooperation between Vietnamese and Hainan relevant agencies.
He also stressed on the acceleration of maritime transport cooperation, the opening of direct flight route from Hainan to Viet Nam and the promotion of services links with a focus on tourism.
At the forum, Prime Minister Dung witnessed the signing of cooperation agreements between the Hainan authorities and the Viet Nam Ministry of Industry and Trade before leaving the locality for Beijing to continue his four-day official visit to China.