Prime Minister Nguyen Tan Dung visited and congratulated cultural researcher Vu Khieu on the author's 95th birthday, September 12.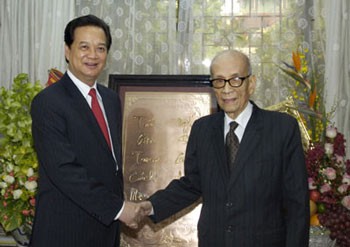 Prime Minister Nguyen Tan Dung (L) congratulates Professor Vu Khieu on his 95th birthday, September 12. (Photo: Chinhphu.vn)
Mr. Dung honored professor's significant contributions, especially a research work of the 1,000-year Thang Long-Hanoi culture that he has written in ten years.

The Prime Minister also presented Mr. Khieu a bronze picture inscribed with the parallel sentences: "The philosopher in the revolution. The artist among heroes".

He wished the professor well and has more contribution to national construction and the country's socio-economic development.

Professor Vu Khieu thanked the Party and Government for the well-wishes. He said he believed the country would continue to move forward for wealthy people, strong nation, justice, democratic and civilized society.

Professor Vu Khieu is one of the leading authors who have research on Vietnamese culture. He was honored with the title "Vietnamese Hero of Labor" in 2000 and awarded with the First Class Independence Medal in 2006.