Prime Minister Nguyen Tan Dung hosted a reception for the head of UN agencies in Vietnam in Hanoi on October 24 on the occasion of the UN's 69th founding anniversary.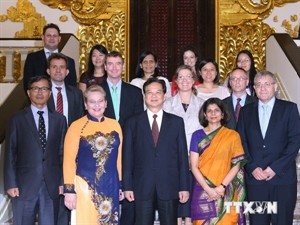 PM Nguyen Tan Dung and representatives of UN agencies in VIetnam (Photo: VNA)
The PM extended his congratulations to the UN officials and took the occasion to express thanks to the UN agencies for the valuable assistance they gave Vietnam throughout 37 years since the country joined the global organisation in 1977.
Vietnam will always be an active member making responsible contributions to the common cause of the UN and the international community, PM Dung said.
He updated the UN officials on the economic conditions in Vietnam and the government's efforts to stabilise the macro economy, control inflation and ensure social welfare.
Discussing the agenda for global development beyond 2015, the PM emphasised the importance to development of a peaceful environment and regional and world security, including maintaining maritime security and safety. He reiterated the need to deal with disputes by peaceful measures on the basis of respect for international law, including the 1982 UN Convention on the Law of the Sea.
PM Dung welcomed the international community's endeavours to fulfil the Millennium Development Goals (MDGs) and highlighted the significance of the development agenda for the post-2015 period, which focuses on sustainable development, green growth, climate change response and enhancement of the efficiency of the UN's operations.
He praised the outcomes of the One UN Initiative in Vietnam and asked the UN agencies to continue with the initiative on the basis of agreed principles and goals.
On behalf of UN agencies in Vietnam, UN Resident Coordinator Pratibha Mehta spoke highly of the Vietnamese Government's efforts to maintain economic growth, promote poverty reduction and fulfil MDGs.
The coordinator also appreciated Vietnam's contributions to the discussion on and building of the UN's post-2015 development agenda. She affirmed that the UN will continue to provide assistance to Vietnam in its socio-economic development in the future.