Prime Minister Nguyen Tan Dung has spoken highly of the efforts being made by the Shipbuilding Industry Corporation (SBIC) to build fisheries surveillance vessels, making a practical contribution to safeguarding the nation's sea and island sovereignty.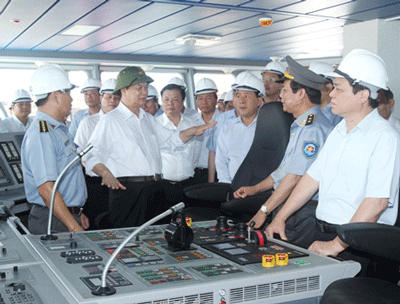 Prime Minister Nguyen Tan Dung inspects a fisheries surveillance ship yesterday built by the Ha Long Shipbuilding Company during his visit to Quang Ninh Province. — VNA/VNS
At a working session with SBIC executives in the northern coastal province of Quang Ninh yesterday, PM Dung said that Viet Nam was a coastal country with a sea area of more than a million square kilometres.
Its sea-based economic activities, which include aquaculture, fishing, oil and gas exploitation, and shipping, had benefited national construction and development, he added.
The leader noted that in the past years, the shipbuilding industry had taken great strides as Vietnamese engineers and workers created a large number of modern vessels.
Restructured from the Viet Nam Shipbuilding Industry Group (Vinashin), the SBIC now has eight affiliates which account for 70 per cent of the country's shipbuilding capacity.
PM Dung instructed the corporation to continue the construction of fisheries surveillance ships as scheduled, and stand ready to maintain and build more vessels for law enforcement forces.
He said Viet Nam was piloting a project to build steel fishing vessels for fishermen. He asked the SBIC to work closely with authorised agencies and fishermen to construct more steel vessels to fuel the fishing industry.
The same day, the leader inspected a fisheries surveillance ship built by SBIC's Ha Long Shipbuilding Company.
The vessel will conduct offshore patrols to support Vietnamese fishermen and uphold the law in the country's waters.
Quang Ninh
Also yesterday, PM Dung has asked the northeastern province of Quang Ninh to develop its industrial and service sectors.
At a working session with the province's key leaders in Ha Long city yesterday, the Government leader said the province should take measures to ensure the successful implementation of tasks set for 2014, creating a foundation for the province's development.
He said the province needed to focus on removing difficulties for businesses and provide concrete support policies for industrial production, tourism and services.
In addition to State funding, the province should actively mobilise other resources for urban and transport infrastructure development and new-style rural area building to provide momentum for its rapid and sustainable development.
In the face of complex developments in the East Sea , Dung emphasised the resolve to safeguard the country's sacred sovereignty by peaceful means in line with international law, including through the channels of diplomacy and public opinion.
He said Quang Ninh, which shares a border with China, must pay special attention to maintaining political security, social order and safety, and consolidate defence and security.
The PM added that at the same time, the province should continue economic co-operation activities with China for the common interests of both sides.
According to a provincial report, Quang Ninh has made high economic growth in recent years despite difficulties, reaching 7.5 per cent in 2013.
Its business and investment environment has greatly improved while progress has also been made in building new-style rural areas, ensuring social welfare, reducing poverty and raising living standards.