Prime Minister Nguyen Tan Dung received a delegation from the Republic of Korea (RoK)-Vietnam Friendship Association, led by its Chairman Kim Hack-yong, on January 9 in Hanoi.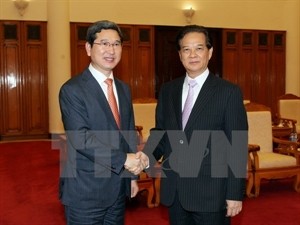 Prime Minister Nguyen Tan Dung (R) receives Chairman of the RoK-Vietnam Friendship Association Kim Hack-yong (Photo: VNA)
Highlighting the traditional ties that Vietnam and the RoK have enjoyed over recent years, the PM noted that both sides have established a strategic partnership, fueling their collaboration in various areas including economy and trade.
The RoK is now the largest trade partner and the biggest investor in Vietnam with a total investment of about US$37 billion, he noted, adding that the two sides have recently concluded negotiations on a free trade agreement which is expected to be signed shortly.
These actions represent critical steps towards promoting the existing bilateral strategic partnership to a new mutually-beneficial height, ultimately contributing to peace, stability, cooperation and development in the region and the world, he stated.
Lauding the great contributions of the RoK-Vietnam Friendship Association to the progress of bilateral relations, the Government leader expressed his hope that the association will continue its practical and effective activities to foster the bilateral friendship further and support the Vietnamese community in the RoK.
On his part, Kim Hack-yong, who is also a parliamentarian, said once signed, the bilateral FTA will open new affiliation prospects for both countries, especially in the fields of economy, trade, and investment. He pledged to continue contributing to the growth of the bilateral friendship, including increasing activities to enhance mutual understanding and trust between the two peoples.
He also vowed to offer any form of assistance possible to Vietnamese nationals studying and working in the RoK, helping them to better integrate into the host country's society.