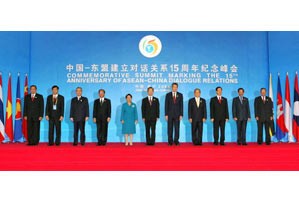 Chinese Premier Wen Jiabao (C) poses in a group photo with leaders of ASEAN's states and governments (AFP Photo)
Prime Minister Nguyen Tan Dung on Monday leads a Vietnamese delegation to attend an ASEAN-China summit and visit China's Guangxi Zhuang Autonomous Region at the invitation of Chinese Premier Wen Jiabao.
PM Dung will participate at the Commemorative Summit marking the 15th Anniversary of ASEAN-China Dialogue Relations in Nanning on October 30-31, before paying a friendly visit to Guangxi Zhuang Autonomous Region on November 1.
According to the Ministry of Foreign Affairs, PM Dung's working trip to China this time will further boost the strategist cooperation relations between the two countries as well as between ASEAN and China.
In the past few years, especially since Viet Nam opened its Consulates General in Nanning, the capital city of Guangxi autonomous region in 2004, the cooperative ties between the two countries' ministries and sectors have been strengthened. Meetings between leaders of the two countries are held each year along with their exchange of visits and meetings on the sidelines of international conferences.