The Prime Minister on August 1 issued a ban on improper use of State budget for presents, receptions, parties and other wastefulness cases.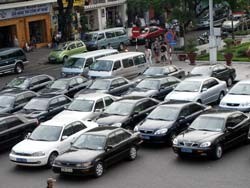 So many cars may be wasteful.
PM Nguyen Tan Dung instructed that all ministries, agencies, chairmen of people's committees and chiefs of State organizations must practice thrift in organizing events. He banned the use of foreign alcohols for receptions and parties.
The Government leader also banned inappropriate use of State budget for bonuses and donations, as well as reception of such stuff. Individuals and organizations must say no to offers of these improper bonuses and presents. If impossible to refuse, they must make reports to their superior and return such stuff.
The PM ordered that all expenses from State budget for presents, donations and bonuses be filed in account books so that the public can know. Those who made decisions on improper use of State budget for these things must make compensations according to the market price. All civil servants having given or taken these things must be punished and will face criminal charges.
Mr. Dung encouraged individuals and organizations having given or taken these things to report on the cases on their own, make compensations or return such stuff. A minor punishment is likely for them.
The PM assigned the Ministry of Finance to submit to the Government by October a set of rules on giving and taking presents, and returning the presents for civil servants, subject to the Anti-Corruption Law.
The Prime Minister instruction requires agencies concerned to thoroughly examine and strictly deal with wastefulness cases in the areas under their management. All violations against the instruction must be handled strictly.