Prime Minister Nguyen Tan Dung chaired a meeting with standing members of the Cabinet on February 24, hailing efforts of ministries and localities to ensure a Lunar New Year (Tet) holiday of peace, jubilance, safety and responsible spending for all.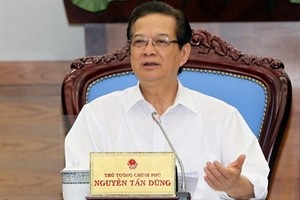 Prime Minister Nguyen Tan Dung (Photo: VNA)
Supply of goods and services were adequate and goods made in Vietnam dominated the market, he noted, adding that prices remained stable during Tet, which spanned from February 15-23.
Meanwhile, disadvantaged households and policy beneficiaries received special attention to enjoy a warm holiday, he said.
Traffic ran smoothly during the holiday, while cultural and art activities were eventful, said the PM. He also lauded ministries and localities for ensuring defence and security as well as social safety and order during Tet.
PM Nguyen Tan Dung, however, pointed out the high number of road accidents that reportedly killed 317 people and injured 509 others.
Some localities also faced social disorder, smuggled and fake goods, as well as the illegal use of firecrackers.
The Government leader urged all ministries and localities to immediately resume normal operations and intensify production to make up for the long holiday break.
As the first lunar month is the festival season, he asked all authorised forces to focus on maintaining security and social order while preventing fire and explosives and traffic congestion. It is simultaneously crucial to effectively provide health care services and combat smuggling, he emphasised.
The PM also stressed the need for ministries and localities to continue maintaining defence and security, firmly safeguarding the national independence and the territorial sovereignty.