Prime Minister Nguyen Tan Dung met yesterday with Germany's Deputy Prime Minister and Foreign Minister, Frank-Walter Steinmeier, who is on a working visit to Viet Nam.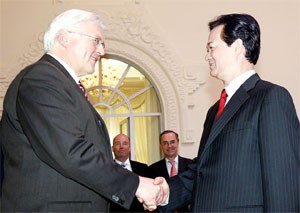 PM Nguyen Tan Dung receives German Deputy PM and Foreign Minister Frank-Walter Steinmeier
PM Dung said he believed the visit would help raise the level of co-cooperation between Viet Nam and Germany.
 
He thanked the German Government for their goodwill in building the Viet Nam-Germany University as well as an international high school in Viet Nam.
 
The PM said economic and trade relations between the two countries had recently enjoyed rapid, strong and stable development.
 
At present, Germany has become one of the largest European investors in Viet Nam. This year bilateral trade turnover between the two countries rose to more than US$3 billion.
 
Mr. Dung emphasized the enormous potential for furthering trade co-operation between Viet Nam and Germany, saying the two countries should more thoroughly bring their respective advantages into play in order to make their cooperation more effective.
 
Frank-Walter Steinmeier said he was happy to visit Viet Nam, and hoped that the two nations would begin to work more closely together in the fields of education, training, justice and the building of infrastructure.
 
He expressed his appreciation for Viet Nam's investment environment, saying that the Vietnamese Government's policies to encourage foreign investors, especially its struggle against corruption, had created a favorable environment for foreign investors to do business in the country.
 
He said the German Government had always promoted Viet Nam and its investment environment among Germany's enterprises and economic groups.