The National Conference Center in Ha Noi must be built with high quality to serve the APEC Summit scheduled in November, Prime Minister Nguyen Tan Dung said on August 5.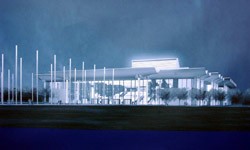 The future appearance of the National Conference Center in Ha Noi
The PM, chief of the State steering panel for the project, made this request during his inspecting visit to the construction site.
He praised the Ministry of Construction, the Project Management Unit, working units, consultants and supervisors on their great efforts to ensure the construction of the project as scheduled.
 
As the installation of equipment is going on, the Government leader asked that safety be ensured so that nothing could ever occur to put the project behind schedule.
Work on the project has been done for almost 22 months. According to the Project Management Unit, the main categories have almost been completed. It is planned that August 15 will be the test day for the air-conditioning system, the electric system and the lighting system.
Systems and networks will be checked partially, and then the whole center will be handed over before September 30.